Forty-Four Years Of Arts In Tuolumne County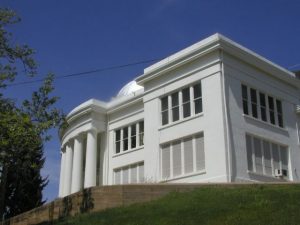 Sonora Dome

View Photos
The Tuolumne County Arts Alliance will celebrate its' 44th birthday this Saturday. They are inviting the community to celebrate on Saturday afternoon and evening.
Connie O'Connor the Executive Director for the Tuolumne County Arts Alliance (formerly the Central Sierra Arts Council) was Friday's KVML "Newsmaker of the Day".
The "new" campus for the TCAA is located on Barretta Street in Sonora, in the old Parent Nursery School Building on the north side of the Dome.
The free open house and celebration takes place at both the Arts Building at 251-C Barretta Street and the Sonora Lions Club Park, which is located next to the building. The free celebration takes place from 3:00 to 8:00 p.m. Barbecued hot gogs and all the  trimmings will be served for free (donations are welcome), along with chips, drinks and birthday cake. The barbeque is courtesy of the Lions Club of Sonora.
Music is provided by The Brothers Strong and Co. O'Connor says to bring your lawn chairs for relaxing and listening.
O'Connor also invites you to visit the George Post Community Gallery in the Arts Building for the new show by Artist in Residence, Sarah Anne Graham. Winner in 2012 of the U.S. Forest Service Art Competition, "Artist in the Woods", Graham will be demonstrating print making and taking sign ups for new classes in print making at KASA Arts Academy later in the Fall. The show, titled: 'PAPER ~ PRINT & PAINTING' will run from July 12 through September.
The Tuolumne County Arts Alliance is funded mostly by membership dues, occasional grants and by Tuolumne County when the budget allows.
The website that is filled with local information, news and activities is http://www.tuolumnecountyarts.org
The "Newsmaker of the Day" is heard every weekday morning on AM 1450 KVML at 6:45, 7:45 and 8:45am.