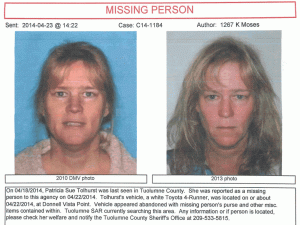 Patricia Sue Tolhurst - Missing Person

View Photos
Sonora, CA — The Tuolumne County Sheriff's Office continues to investigate the disappearance of Patricia Sue Tolhurst.
As reported previously, Tolhurst was last seen about a week ago in Tuolumne City. This past Tuesday her SUV was found abandoned near the Donnell Vista Point. The Sheriff's Office Search and Rescue Team was out again yesterday combing the area, but she could not be located. No additional search is planned for today.
Sheriff's Office Spokesperson Scott Johnson reports that detectives are in the process of following up on tips.
Tolhurst, 46, is the owner of Patty's Shack restaurant in East Sonora.
The search has brought back memories of Nita Mayo. The Nevada resident was touring the Mother Lode in 2005, and her vehicle was found abandoned near the same location as Tolhurst's. Mayo's disappearance attracted national media attention, as she was never located.