Rock Fall Closes Yosemite Trail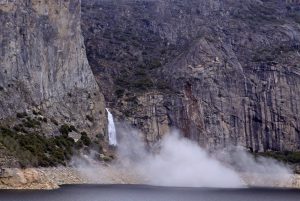 Yosemite Rock Fall

View Photos
Yosemite, CA — 16,000 tons of rock fell from a cliff near Rancheria Falls in Yosemite National Park.
Yosemite officials report that no one was hurt in the incident. An estimated 400 ft. of the Rancheria Falls Trail were destroyed. Until further notice, the trail will be closed from just east of the Wapama Creek foot bridges, so there is no access beyond Wapama Falls. Hikers can still access Wapama Falls via the trail system that begins at the O'Shuaghnessy Dam.
The rocks fell approximately 500 ft. from the cliff.