TUD Moving Closer To Acquiring Water Rights And Infrastructure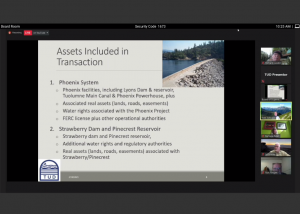 TUD Special Meeting - Assets

View Photos
Sonora, CA — The Tuolumne Utilities District hosted a joint meeting to provide local stakeholders an update on efforts to acquire PG&E assets like Pinecrest Reservoir and Lyons Dam, and water rights from New Melones.
The informational meeting included the Tuolumne County Supervisors, Sonora City Council and local tribal representatives.
TUD Board Chair Barbara Balen opened by stating, "I'd like us to think about what local control of water could mean to the people who live here," and moving from "uncertainty and fear of not having enough water for fire protection, or even fire insurance, to the direction of certainty, and local control."
TUD's chief negotiator, Tom Johnson, then delivered a presentation noting that PG&E approached TUD in 2016 about divesting local infrastructure and giving the district exclusive negotiating rights. If TUD passes on the opportunity, PG&E may take steps towards putting the infrastructure up for sale.
The district has had an agreement in place to supply free water to TUD since 1983, but if a private party takes over, that could not longer be the case.
It is not publicly known what TUD would pay PG&E to buy the infrastructure. Johnson said cost and revenues are currently proprietary and protected under confidentiality agreements. The reason is that if the TUD negotiations fall through, PG&E does not want terms known if it needs to sell it to another buyer.
That said, he pointed out that if TUD takes over the infrastructure, revenues from power generation will not sufficiently cover the cost of operations (a reason PG&E is trying to divest the infrastructure). Johnson said revenue from other sources will be needed, whether it be a rate increase or some sort of new tax. Further exploration of funding mechanisms will be explored over the coming months.
In relation to buying the assets, there are obligations associated, including operating and maintaining the water infrastructure, along with upkeep on the roads and facilities.
As for timelines, optimistically, the purchase and sale agreement would take 12 months, and then an additional 18 months would be needed to receive approvals from FERC and the California Public Utilities Commission and to hire and train district workers to take over the operations. The whole process could wrap up around mid-2023, best case scenario.
On a separate matter, TUD legal counsel Jesse Barton gave an update on efforts to acquire water rights from the US Bureau of Reclamation related to New Melones. TUD is an "in-basin" priority user and is eligible to seek water. The amount of water sought would impact the cost of the contract, and the amount of environmental analysis needed. It is likely a 2-3 year process. The end goal is to diversify the district's water sources. Barton stressed that New Melones water would not be tapped every year, but it would be an option during times of drought, to fight fires, or to cover future needs, whether it be related to development or climate change. He said the cost would range from $35-$60 per acre-feet, depending on the use. There is also an additional $10 acre-feet environmental fee. The electricity costs for pumping would be around $193 per acre-feet.
Many people spoke during the comment period. For example, TUD Director Ron Ringen encouraged all the local stakeholders, and non-profits, to lock arms and work together to make this happen.
Board of Supervisors Chair Ryan Campbell referenced past missteps generations ago, "This is a once in a lifetime opportunity to right a wrong, a crime, that was done." He also pointed out that it could be a long, difficult and potentially messy process.
Board member Jeff Kerns says future generations depend on getting this deal done. He said whether the district takes it over, or another entity, the ratepayers will be paying for it.
Twain Harte Community Services District General Manager Tom Trott said he is "thrilled" that TUD is having these difficult discussions, as water is the lifeblood of the community. He said the costs of deferring or forfeiting these opportunities would hurt the community many years from now.
Central Sierra Environmental Resource Center Executive Director John Buckley was critical of the plan, and was disappointed that local leaders were taking a stance on the idea without having all of the details about what the takeover would look like. He also argued it is still "speculation" that the free water agreement from 1983 would not stand if another entity purchases it.
Agriculture leader Shaun Crook indicated that he was disappointed that groups like the Farm Bureau have not been invited to take part in the discussion process, and voiced concerns about what it would mean for the rates of ag customers. He said he cannot support the concept without knowing all of the details.
Today's meeting was informational only and no formal action was taken. A decision to formally acquire assets would come at a later time.