Dr. Sergienko Explains Reactions To COVID-19 Vaccine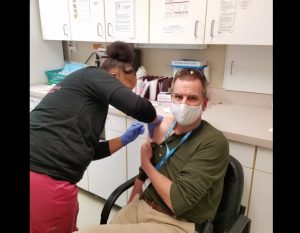 Dr. Eric Sergienko Receives COVID-19 Vaccine

View Photo
Sonora, CA — The health officer for Mariposa County, who also serves as interim officer for Tuolumne County, has received both doses of the COVID-19 vaccine.
He shares through the Mariposa County Public Health department that after first dose he had some expected soreness in his arm near the injection site. This was to be expected, and he said "It wasn't too bad."
The day after his second shot, received on Friday, he felt "a little bit achy" and had a minor headache. It was not enough to disrupt his workday. The following morning he was a "little more achy," but says "nothing too disruptive."
As the immune response builds after receiving the vaccine, the health department reports that common side effects can include things like pain, tiredness and fever. For more information, per the CDC, click here.
State, federal and local Public Health officials strongly encourage the use of the vaccine to receive a high level of immunity and it is considered part of the effort to help end the pandemic.
Mariposa County Public Health reported last week they were finishing Phase 1A tiers and Phase 1B will include individuals 75+ years old, the workforce in education, childcare, emergency services, and food and agriculture, those 65-74 years old with underlying health conditions and/or a disability, and workers in transportation and logistics; industrial, residential, and commercial sectors; critical manufacturing; incarcerated individuals; and homeless/unhoused.
In an effort to reach those in Mariposa who may fall into the 1B phase based on age and/or health history, Mariposa created a COVID-19 Vaccine Contact Form you can fill out. When you are eligible, someone will contact you to schedule an appointment. You can fill out the form by visiting https://bit.ly/3pOSDMk.
If you have COVID-19 questions, about the vaccine or otherwise, please contact the Mariposa planning team at 209-259-1332. If someone needs to fill out the form and does not have internet access or needs assistance, they can call that number to have someone fill out the form with them.