Update: Reversal On California Fire Federal Aid Decision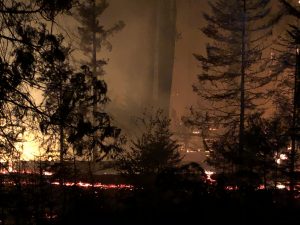 Creek Fire

View Photo
Update at 4:15 p.m.: President Donald Trump's administration has reversed course and approved a previously rejected California application for disaster relief funds to clean up damage from six recent wildfires.
In a written statement Gov. Gavin Newsom updated, "Just got off the phone with President Trump who has approved our Major Disaster Declaration request. Grateful for his quick response."
Earlier the White House had stated that the Federal Emergency Management Agency rejected the request because it was not supported by data needed for approval. A Trump Administration spokesman says California officials later presented "a convincing case" for the reversal.
Update at 12:22pm written by BJ Hansen: Congressman Tom McClintock indicates that communities impacted by the Creek Fire will likely receive federal aid after all.
We reported earlier, below, that the Trump Administration had rejected a Presidential Disaster Declaration for the 341,000 acre Creek Fire, and five other incidents. McClintock, who represents the Mother Lode region and had recently toured the Creek Fire area, reports on social media, via Twitter, that he has been informed by GOP Leader Kevin McCarthy that President Trump has committed to reversing the earlier decision, and send federal aid to the communities.
Original story posted at 6:42am: Washington, DC — California was hoping to receive federal assistance to help rebuild following the 341,000 acre Creek Fire, and five others, but the request was denied by President Donald Trump.
Governor Gavin Newsom requested a Presidential Disaster Declaration for the Creek Fire in Fresno and Madera counties, the Bobcat Fire in Los Angeles County, the El Dorado Fire in San Bernardino County, the Valley Fire in San Diego County, the Oak Fire in Mendocino County and the Slater Fire in Siskiyou County. The Trump Administration confirms that it has denied the state's request, and California now plans to appeal the decision.
Governor Newsom sent a letter to President Trump on September 28 stating that the damage estimates exceed $229-million and federal assistance is needed to rebuild infrastructure and support the economic recovery.
The Trump Administration has not indicated why the request was denied. The President has in the past been critical of forest management in the state.