Update: Cooling Stations Opening For Weekend Heat Wave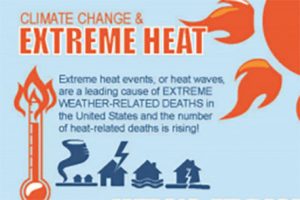 TCPH heat warning

View Photo
Update at 3:57 p.m.: Friday afternoon, Calaveras health agencies issued a list of places where those without access to an air-conditioned place can cool off from the triple-digit heat wave that has the Mother Lode under an advisory.
The following Calaveras County cooling centers will be open to the public Saturday and Sunday from 10 a.m. until 6 p.m. when the temperatures are anticipated to be the hottest.
Valley Springs — Jenny Lind Elementary School (5100 Driver Road)
Angels Camp — Bret Harte High School (364 Murphy's Grade Road)
Copperopolis — Copperopolis Armory (695 Main Street)
San Andreas — San Andreas Library (1299 Gold Hunter Road)
Officials add that future dates for cooling centers will be announced once details are confirmed. These centers will comply with state guidelines to prevent the spread of COVID-19 so face coverings will be required to enter.
Tuolumne Public Health has provided tips and guidance below. You may also access other heat illness prevention tips from Calaveras Public Health Officer Dr. Dean Kelaita by clicking here.
Tracey Petersen contributed to the updates below.
Update at 12:10 p.m.: Tuolumne County Office of Emergency Services (OES) tells Clarke Broadcasting that another cooling center is being opened in Groveland this weekend. The hours of operation will be from 2 p.m. to 6 p.m., daily, at the Groveland Library, 18990 Main Street in Groveland. Further details on another cooling center in Sonora is below.
Original post at 8:54 a.m.: Sonora, CA – As the temperatures rise into the triple digits this weekend, Tuolumne County Public Health officials have issued a heat warning and offer a cool place for residents to beat the heat.
While residents can get some relief at public buildings, County Office of Emergency Services Coordinator (OES), Liz Peterson acknowledges that with the COVID-19 pandemic they are limited, "A lot of the buildings that we have used in the past for cooling centers are not available right now."
That has prompted the opening of a cooling center at the Sonora Senior Center, 540 Greenley Road. The doors will open from 2 p.m. to 6 p.m., as it is the hottest time of the day, Friday, August 14th through Sunday, August 16th.
Coronavirus precautions will be in place, including symptom screening, physical distancing, and required face coverings for staff and participants. Regarding the building's capacity, Peterson adds, "I am not sure of the number of people that it will hold but there are multiple rooms, so there is a large capacity for physical distancing in that facility."
While the cooling station is only slated to be open through the weekend, Peterson advises, "We definitely will reassess next week, so if we feel like the temperatures continue to meet that threshold for needing of wanting cooling centers, then we would definitely look at either reopening the Sonora Senior Center or adding alternative buildings."
Health officials offer these safety precautions:
Check water stores, supplies of important medications, and air conditioning systems in homes and businesses. If you know of neighbors or friends who might benefit from assistance during the coming hot weather, this might be a good time to check on them.
It is important to wear appropriate clothing during hot weather, especially for children. Wearing a hat and using sunscreen is a good idea if you plan to be outside.
If you are unaccustomed to working or exercising in hot weather, it is important to pace yourself, drink 16 to 32 ounces of liquids every hour if you must be active in the heat, and include some foods, juices or sports drinks to replace electrolytes (salts in the blood).
If you or someone you are with develops dizziness, headache, flushed skin, or nausea, consider heat illness (heat exhaustion). Heatstroke occurs when a person exposed to extreme heat loses the ability to maintain a normal body temperature and can lead to confusion, unconsciousness, or even death. Please consult with your healthcare provider if you find yourself or another person experiencing these physical symptoms.
If extreme fire danger conditions threaten a portion of the electric system, PG&E may turn off electricity in the interest of public safety for up to five days. It is important that you are prepared if the power is off for multiple days.