California Allowing Some Businesses To Reopen This Week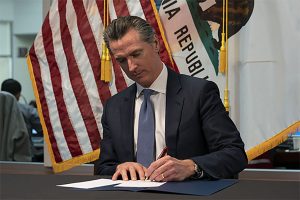 Governor Newsom

View Photo
Sacramento, CA — Some businesses will soon be allowed to reopen as Governor Gavin Newsom announces that California will move into the "next phase" later this week.
We reported earlier that California is implementing a four stage approach when it comes to reopening the state and revising the stay at home orders.
Newsom announced today that "lower risk" retail stores will be allowed to "reopen for curbside pickup" on Friday. He notes that it includes businesses that specialize in things like clothing, florists, bookstores, sporting goods, etc.
He also announced that he will allow counties the flexibility to move further into stage two, and allow for the opening of restaurants (with modifications), and some hospitality businesses, if certain criteria is met, and it is ok'd by the local county public health officer, and the board of supervisors.
Newsom stated that Californians flattening the curve, along with increased testing capacity, has allowed for the modifications. He stated that more information will be forthcoming about the transition into Stage Two later this week.