Too Dry By 11 Trillion Gallons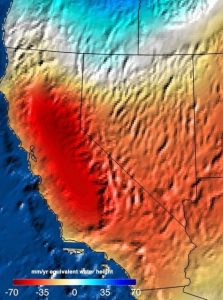 NASA satellite image trend in water storage 2011 to 2014

View Photos
San Francisco, CA – Although the latest regional forecast is for a wintry wet season, new NASA data indicates that the state is some 11 trillion gallons deep into its water deficit and the Central Valley continues to experience the brunt of it.
NASA describes the shortfall as roughly one and a half times the capacity of Lake Mead, Nevada, the country's largest reservoir. NASA used satellite and aircraft-gathered measurements of groundwater and mountain snowpack measurements for its latest analysis, which it shared Tuesday, during an annual American Geophysical Union meeting in San Francisco.
"It takes years to get into a drought of this severity, and it will likely take many more big storms, and years, to crawl out of it," stated NASA's Jay Famiglietti.
Water storage in the Sacramento and San Joaquin river basins, according to previous NASA findings, has annually lost a volume of about four trillion gallons of water since the drought began in 2011, mostly in the Central Valley. This annual loss is more water than is currently being used by the state's 38 million residents for domestic and municipal purposes across the state, according to NASA-provided figures.
While the recent rainstorms improve surface conditions and soil moisture, Famiglietti pointed out, the groundwater within the Central Valley aquifers take much longer to respond and are additionally impacted by increasing water demand.
The 2014 Sierra Nevada snowpack, NASA stated, is the lowest on record. In 1977, when the state experienced its previous lowest snowpack, it was at half the population. The latest NASA ASO-gathered data show inaccuracies in previous ground-gathered observations, according to the agency. The new figures, it states, are half of the previous estimates. NASA researchers said that the low snow extent contributed to the unusually warm year, and that 2014 will likely be the state's warmest year since records began in 1880.
According to NASA, its new, "unprecedented" calculation of the water volume necessary to end a drought comes from a group of Gravity Recovery and Climate Experiment (GRACE) satellites as well as from airplane-based NASA's Airborne Snow Observatory (ASO) measurements of mountain snowpack.