Yosemite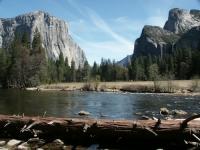 Yosemite National Park is world famous for its towering cliffs, beautiful alpine scenery, spectacular waterfalls, granite domes and spires. Artists, writers, tourists, and other adventurers visit to experience it. A special distinction granted by congress in 1864 protects 95 percent of the land from development by designating it a "Wilderness".
Each season in Yosemite has a unique beauty. The summer is of course a very busy time of year to visit. Fall offers a break from the summer crowds and more elbow room on the trails. Winter is peaceful and offers great snowshoeing, but mind the road closures. Spring is quite possibly the best time, when the ground warms and the wildflowers burst into full bloom. This is also when the many waterfalls are the biggest with all the water from the snow melting. By August many falls are diminished or dry.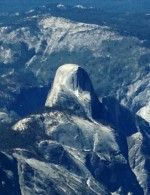 It takes more than one day to take in all the sights in Yosemite National Park. Take one day for short hikes in the valley at the bottom of Yosemite Falls and along the Merced River, and see the famous Ahwahnee Lodge. Plan another day for a longer hike up Vernal Falls, Yosemite Falls or Half Dome. It is also well worth your time to visit Hetch Hetchy or the Mariposa Grove as well.
Yosemite Park officials reopened the Mariposa Grove to the public on May 5th, three months after a storm with high winds brought down trees. Fallen trees damaged the restrooms and the area's wooden boardwalks, fencing, and trails causing more than $3 million in damage.
The Park Service has dealt with safety hazards but the boardwalks, trails, and restroom have not yet been repaired. Due to COVID restrictions, shuttle buses will not run in 2021. Portable toilets are available but until the facilities at the Grove are repaired in 2022, visitors will have to walk or bicycle two miles to reach the Grove and will need to bring their own water.
You don't need reservations to visit or enter Yosemite National Park, but reservations for lodging or camping are essential if you plan to spend the night. A park entrance fee applies to all visitors. If you arrive in your own car, the entrance fee is $25. The fee is for unlimited entries to Yosemite for seven days, and includes all occupants of the car. If you go through the entrance on foot, horseback, bicycle, motorcycle, or on a non-commercial bus it is $10 per person, free for those 15 years old and younger. There are also annual and life time passes click for details. If you would like to preview traffic expectations for the next few days click here.
Yosemite hosts several annual events. Every December since 1927 The Majestic Yosemite Hotel has hosted the Bracebridge Dinner, a seven-course meal for 300 people. The Bracebridge Dinner transforms the Grand Dining Room into an elaborate renaissance hall full of Christmas pageantry and tradition. Ansel Adams was the 1st Jester and a director for 45 years. Other holiday meals Thanksgiving, New Years, Taste of Yosemite (early November) and the Grand Grape Celebration. An annual apple picking event discourages bears from visiting.
Internet access in the park
Yosemite Lodge Wireless internet access is available to all park visitors at Yosemite Lodge in Yosemite Valley for $5.95 for up to seven logins or seven days (whichever comes first). Two Internet kiosks are available near the front desk for $1 per three minutes. Yosemite Village Internet kiosks are also available near the front desk for $1 per three minutes. Limited Internet access is also available at the small Mariposa County library branch in Yosemite Valley. Wireless Internet is available for overnight guests of The Ahwahnee and Yosemite Lodge.
Pets are Allowed…
Only developed areas, on fully paved trails and roads, in campgrounds (excluding: Tamarack Flat, Porcupine Flat, and walk-in campgrounds) Pets are also allowed on the Meadow Loop and Four Mile fire roads in Wawona, on the Carlon Road, and on the Old Big Oak Flat Road between Hodgdon Meadow and Hazel Green Creek.
Pets are Not Allowed…
Pets may not be on unpaved or poorly paved trails, in Wilderness areas, on shuttle buses, in concessioner lodging areas, in Tamarack Flat, Porcupine Flat, and all walk-in campgrounds, in any group or horse camps. DNC Parks & Resorts at Yosemite operates a dog kennel in Yosemite Valley from Memorial Day through Labor Day. Proof of current registration and written proof of immunizations (rabies, distemper, parvo, and Bordetella) must be provided. Dogs must be at least ten pounds and at least six months old. You can get more information about the kennel by calling 209/372-8348.

Day hikes range from flat walks to robust climbs, with distances from the valley of under one mile to Bridalveil Falls or up to 17 miles up to Half-Dome. Details are here…

There are over 12 miles of paved bike lanes in Yosemite Valley that lead to some of the most picturesque spots in the park. Mountain biking on other trails is also permitted. Details are here…

Yosemite National Park has 13 popular campgrounds. Details are here.

Fishing in Yosemite can be relaxing and fun. The park has 58 permanent streams with a combined length of 770 miles. The Merced offers enjoyable fishing all summer and into the winter. Details are here.
[mapsmarker marker="1515″]
If you want to stay in the Mother Lode take a look our list of places to stay.
Planning a wedding, conference or other event? Take a look our list of places to host your event.
Tell us about your experience at this place! Contact Us