Dodge Ridge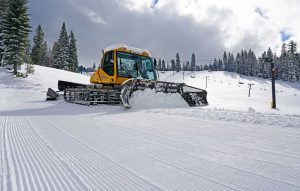 Located in Pinecrest just 30 miles east of Sonora up Highway 108. The top elevation is 8,200 feet and it is 6,600 feet at the parking lot/base, offering a 1,600 foot vertical drop. The resort celebrated its 70th season in operation in 2020-21. Dodge Ridge is the closest, most accessible, family-friendly winter sports area to the Central Valley and Bay Area.
The resort received over 223 inches of snowfall in the 2020-21 season, or just under 20 feet. The season kicked off on December 21 after a big storm system arrived ahead of the Christmas holiday. The last week of January nine feet of new snow fell and additional snow fell in February and March, with cooler than average temperatures. There was an uptick in new guests from the Bay Area and Central Valley.
Dodge Ridge Facts
Open daily as snowfall permits
68 trails: 12 beginner, 24 intermediate, and 24 expert
12 lifts (one fixed grip quad, two triples, five doubles, conveyor 1 & 2 for lessons only, a surface lift and a newer T-bar)
Children's lessons are available in the Snowsports Center for 3-5 year olds or visit the Family Lodge and take them upstairs for a day of fun with the Preschool Snowplay Program.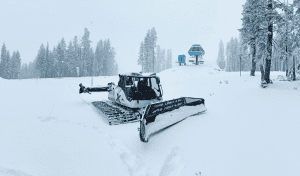 For current conditions information, check our Daily Snow Report listing for Dodge Ridge.
For rentals and other costs: visit their web site or call (209) 965-3474.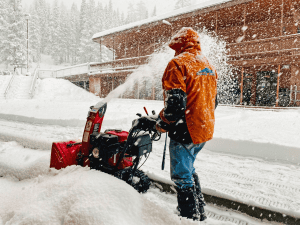 Dodge Ridge History
After 45 years of ownership, Frank and Sally Helm decided to retire, having operated the resort as one of the few remaining family-owned ski resorts in the country. The new buyers will be Invision Capital, owners of Mountain High Resort in California, and Karl Kapuscinski, President and CEO of Mountain High Resort.
The new ownership will assume control of all facilities as well as the USFS Special Use Permit, which includes 862 skiable acres, with 1,600 vertical feet, 68 trails, and 12 lifts, along with the operation of the Pinecrest, Clark Fork, and Brightman Flat USFS campground complexes. Jenni Smith will remain as General Manager leading the team with new President and CEO Karl Kapuscinski. He brings over 30 years of ski area operations experience.
The Helm family has owned and operated Dodge Ridge for the last 45 years of the resort's 70-year history. In 2007 a $6 million base-area expansion included the addition of the 16,000 sq. ft. Family Lodge. The most recent expansion is the doppelmayar T-Bar in the summer of 2011. The Helms tripled the resort's skiable acreage by making key lift installations. The Helms, in partnership with the US Forest Service (USFS), have received approval for a lift-accessed mountain biking plan, which is ready for development under the new ownership.
More Places To Ski
The Sierra, with its high peaks and heavy snowfall, offers plenty of opportunities for skiing enthusiasts. Average snowfall for wintertime in Calaveras and Tuolumne county ski resorts is around 400 to 450 inches for the entire season. That makes for a great base for snowboarding, downhill and cross country skiing. Here we keep track of all 24 California ski resorts.
If you want to stay in the Mother Lode take a look our list of places to stay.
Planning a wedding, conference or other event? Take a look our list of places to host your event.
Tell us about your experience at this place! Send an email to the Destination Guide Administrator. If you would like to advertise with us, please e-mail our sales department or give us a call at (209) 533-1450. To see a gallery of our current advertisers click here.