Tile Offers a Way to Add Personality to Your Home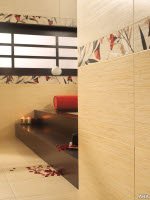 (ARA) – In today's world of personalization, making something 'your own' or unique is the name of the game. Consumers are personalizing their fashion, work, religion, education and travel, so it only follows that they want to make their home a reflection of their taste and style.
'For centuries, the Spanish have long understood the need to express one's self. Spanish tile designers have drawn on the past and looked to the future to create pieces that will appeal to any and every style. Personalization is very much in vogue — self-expression in the design world has created many eclectic and exciting interpretations of the classics,' says Patti Fasan, International Ceramic Tile Consultant.
So, how do you insert a personal take on design when using tile in your home? How about constructing a mosaic, adding an insert or punching up your current design with color and pattern? Tile manufacturers from Spain have developed technical methods that make using tile easy and cost effective. Here are some ideas for your home:
Mosaics
A mosaic is a picture or design made of little pieces of glass, stone or tile, called tesserae, set into mortar or concrete. Mosaics can be used on floors, walls or ceilings. The overall design created by the tesserae can be geometric or create words and pictures. Tile of Spain manufacturer Onix specializes in recycled glass mosaics and can recreate intricate designs using small tile pieces. Because of the extremely low water absorption rate of glass tiles, a glass mosaic is a perfect accent for pools and bathrooms.
Mesh mosaic options offer an easy way to install tile mosaics in your home. For example, Keros, and Keraben, both Tile of Spain branded manufacturers, have captured the beauty of stone in their tile options. The small pieces are mounted to mesh for easy installation. When installed correctly, the overall effect is a field of individually set small tiles. Another option, Rosa Gres and Halcon, offer a mesh mounted mosaic which is reminiscent of trencadis. Trencadis is a type of mosaic created from broken pieces of tiles, glass or just about anything.
Indeed, mosaic art has changed over the centuries. Mosaics today are more versatile, and somewhat more durable, than their antique counterparts, but their beauty remains and is bound to be a great addition to personalizing your home.
Tacos, Listelos, Insets and Borders
Little pieces of tile can make a huge impact. Tacos, for example, are small decorative pieces usually just an inch or two across. When strategically placed in a solid field, they can add visual interest and contrast. Tacos come in solid or decorated options and can be set next to another tile or within a tile.
Long, thin pieces, called listelos, are available in metal, ceramic and glass. Listelos can be used to frame a mirror, create a chair rail or to simply add a personal touch. Listelos offer a unique way of mixing design elements. Try combining a metal listelo with stone inspired tile for a contemporary twist on a classic look. Or, mix a glass listelo with concrete inspired tile to give a clean, modern edge to a space.
For a one-of-a-kind custom inset, manufacturers from Spain are using water jet technology to add graphic design into tile. This allows designers to create a logo, geometric shape or even text. Apavisa and Rosa Gres are manufacturers who use this technique to create unusual and exclusive motifs.
A decorative border can make a personal statement in just a little space. A brightly colored and patterned tile can be used to highlight a special architectural detail of a room or even make ordinary detail pop. The Carey Series from Guibosa presents Crema and Cafe colored field tiles. The decorative pieces feature a modern graphic pattern perfect to use as a focal point to jazz up a room.
Tile can also be reminiscent of a time gone by, a unique decor trend that has recently been popularized. Ticsa is a Tile of Spain manufacturer that takes inspiration directly from old-world influences. They are masters of handmade terra cotta tiles that include mosaic designs and hand painted decorative pieces.
No matter what design you choose, tile can be a way to make your home unique to you. For more about tile produced in Spain, call (305) 446-4387 or visit www.spaintiles.info.
Courtesy of ARA Content
---