Update: Calaveras High Put On Lockdown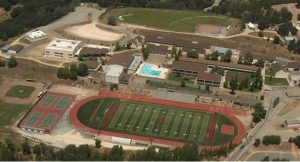 Calaveras High School

View Photo
Update at 2:45 p.m.: Calaveras County Sheriff's spokesperson Sgt. Greg Stark tells Clarke Broadcasting that a male student under the age of sixteen was taken into custody at the school regarding the gun threat. He details, "The reported threats that we received were similar to threatening to shoot several students at the school."
After interviewing several students at the school, the threats could not be corroborated according to Sgt. Stark, who relays that the student was released from custody. The incident remains under investigation. Further details on the lockdown are below.
Original post at 1:10 p.m.: San Andreas, CA – Calaveras High was forced to go on lockdown this morning after a rumor circulated through the student body involving a possible gun threat was brought to the administration's attention.
Calaveras County Sheriff's spokesperson Sgt. Greg Stark relays, "There was a rumor of an alleged student who was possibly armed with a firearm." He went on to detail that the school, located off Highway 49 in San Andreas, was lockdown at 10:45 a.m. Deputies conducted a security sweep of the campus. No weapons were located by deputies and the threat could not be substantiated. The school reopened in about 20 minutes at around 11:05 a.m.
The gun threat targeted a school rally, which as a precaution was canceled, according to school staff.