Curtain Comes Down On The "Clunker" Program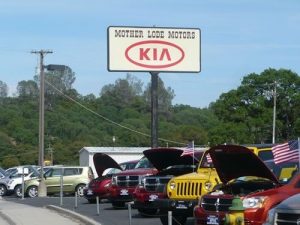 Mother Lode Motors

View Photos
Sonora, CA — It's a "wait and see" situation for Nathan Flake at Mother Lode Motors when it comes to the "Clunker" program that ends this evening at five o'clock.
Flake says Mother Lode Motors has processed 10 "clunkers" since the program was instituted.
When asked if his dealership had received any reimbursement from the federal government Flake answered, "No we haven't been reimbursed at all. It's been real difficult. We still have more paperwork that we have to have completed by five o'clock this afternoon."
Asked if he would do it again, Flake commented, "That's a really good question because we really like selling cars. I guess ultimately it all depends on when we get reimbursed. If we get reimbursed in the next month or so I would do participate in it again but if it took longer than that I would not participate again."
Written by bill.johnson@mlode.com