New Details On HWY 108 Bus Fire In Tuolumne County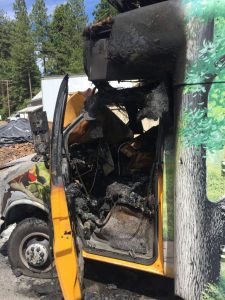 Charred out bus turned RV

View Photos
Sierra Village, CA – The pictures in the image box show the charred bus and the driver feels lucky to have escaped with his life.
Just before noon on Thursday, firefighters were called to the Cheveron Station in Sierra Village along Highway 108, as detailed here. When they arrived flames were shooting out from under the hood and the front of the small yellow school bus was engulfed. Observing from a short distance away, the owner of the bus turned RV, Daisy Dresner from San Francisco, could only watch as his dream of traveling the country went up in flames.
Dresner tells Clarke Broadcasting that he had noticed a leak and he thought it was the fuel line, so he stopped to get it fixed at the station. After a short test drive, the leak reappeared. He says when he went into the station to tell the mechanic, another customer ran in yelling that his bus was on fire. Dresner ran outside and describes what happened next, "It was smoking, smoking, smoking, so we grabbed some fire extinguishers. We tried to open up the hood, but it wouldn't open. Then it [the fire] just grew and grew until it erupted."
Dresner adds that a couple of loud blasts were heard and he believes it was the windows being blown out from the fire and its heat. Firefighters were able to contain the flames to the bus and no one was injured. Still shaken by the blaze, Dresner calls himself lucky that he was not driving when the flames broke out and that it did not happen the day before when five passengers were in the bus.