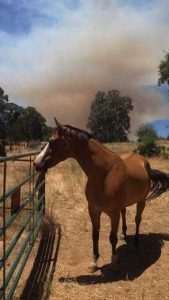 Horse being Evacuated From Fire

View Photos
Team ELITE is a non-profit organization whose name stands for the Evacuation of Livestock in Tuolumne Emergencies.
JoLyn Miller, the President and co-founder of Team ELITE, was Friday's KVML "Newsmaker of the Day".
Miller said that Team Elite is a group of volunteers who assist Animal Control during emergencies, disasters and wildfires in helping to safely evacuate livestock including horses, cattle, llamas, sheep, swine, goats, and chickens. The team works closely with county departments, fire, and law enforcement.
The Team also help homeowners prepare for emergencies before they happen. The volunteers are trained in the Tuolumne County Incident Command System.
According to Miller, the group will set up and manage safe, secure, and healthy shelters for the livestock for as long as the emergency lasts. The Team will then help reunite owners with their livestock in an efficient manner. They also manage supplies and donations before, during and after an emergency
Team ELITE started with members of Twain Harte Horseman and Pine Mountain Lake Stables looking for a way to support livestock evacuation efforts. the Butte Fire in Calaveras County inspired the need to create the group.
For more information, call 209-782-0616.
The "Newsmaker of the Day" is heard every weekday morning at 6:45, 7:45 and 8:45 on AM 1450 and FM 102.7 KVML.