Help Give Yosemite A Facelift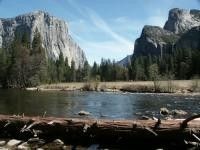 Yosemite National Park

View Photos
Yosemite Valley, CA– This Saturday Yosemite National Park will celebrate National Public Lands Day, the largest hands-on volunteer effort to improve and enhance the public lands American's enjoy.  In commemoration of this special day, the park will waive park entrance fees for all visitors. 
The second way Yosemite will be celebrating National Public Lands Day will be with the Yosemite Facelift.  It begins Wednesday, September 22nd and continues through Sunday.  Last year this massive cleanup effort yielded over 60,000 pounds of trash collected throughout the park.  More than 100 miles of roadway were also cleaned and over 120 miles of Yosemite trails.
Park Ranger Kari Cobb said, "This is actually the seventh annual Facelift. It is a great way to really give back to Yosemite. Last year we saw over 1,200 volunteers that came into the park. Some of the items that were collected range anywhere from televisions, to pounds and pounds of climbing rope, to discarded half broken picnic tables and lots of single shoes. It's really amazing to see the trash collected and it's so beneficial to the park."
For more information on the Yosemite Facelift, please visit www.yosemiteclimbing.org.
Written by tina.falco@mlode.com