TUD Voices Concerns About Pinecrest Lake Elevation Requirements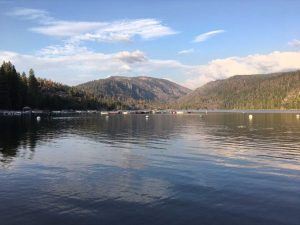 Pinecrest Lake

View Photo
Sonora, CA — The Tuolumne Utilities District feels that the state's current lake level requirements at Pinecrest are putting recreation interests ahead of water supply for local residents.
TUD General Manager Ed Pattison, with support from the Board of Directors, has sent a letter to the chair of the State Water Resources Control Board, E. Joaquin Esquivel. The state currently requires Pinecrest Lake maintain a minimum elevation level of 5,608 ft. until Labor Day. After the summer recreation season concludes, it then gradually goes down. However, the requirement to keep it at 5,608 ft. during the summer months can create the need for TUD to demand regulatory water restrictions from its customer base following dry winters, so the district would like to see the requirement drop to 5,600 ft. The letter states, "Multiple lake level studies have been conducted over the years that draw the same conclusion: Drawing Pinecrest Lake down to 5,600' at Labor Day does not result in any significant or un-mitigable impacts to recreation. Instead, it will ensure a reliable water supply to over 50,000 people."
The letter goes on to add, "the existing lake level requirement elevates recreation values over a public water supply, which violates Water Code Section 106, which states that domestic use is the highest use of water, and Water Code Section 106.3, which states that 'every human being has the right to safe, clean, affordable, and accessible water adequate for human consumption, cooking and sanitary purposes.'"
The letter concludes by noting that the district would like a timely review of this matter, and support for lowering the requirement.
Click here to view the entire letter.