Cap-And-Trade Moving Forward Despite Lawsuit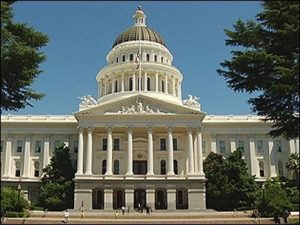 California Statehouse

View Photos
Sacramento, CA — The State of California is set to hold its first auction of carbon emissions permits.
It is a key step in the implementation of AB 32, the package of greenhouse gas reduction bills approved in 2006. It will be the first time that a price tag has been put on greenhouse gas emissions in the state. The California Air Resources Board says the auction is still scheduled to proceed today, despite a lawsuit filed last night by the California Chamber of Commerce, the state's largest business organization. The Chamber argues that the state is exceeding its authority by turning cap-and-trade into a revenue generator.
High polluting businesses will be forced to reduce emissions, or purchase a permit, known as an allowance. Similar, lesser polluting, companies will be able to sell their extra "allowances" to the higher polluting companies. The state will make money on the transactions.
The number of available permits will be phased out over the coming years. The program will initially cover 350 businesses in the state. AB 32 calls for the state to cut its greenhouse gas emissions down to 1990 levels by 2020.