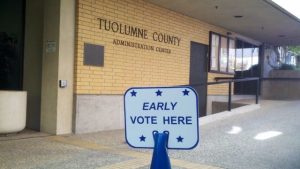 Tuolumne County Voting

View Photos
Around 40% of the registered voters in Tuolumne County have now cast a ballot.
County Clerk and Auditor Controller Debi Russell-Bautista estimates that over 12,000 people have returned a vote by mail ballot, or simply decided to vote early at the Elections Office. There are 31,769 registered voters in the county. She notes that a steady stream of people have been filing through the office this morning.
If you still have a vote-by-mail ballot it can be dropped off at the Election's Office today or tomorrow, or any polling location on Tuesday. To find a list of polling locations, click here.
Besides choosing a President, voters are weighing in on hotly contested local races, such as Board of Supervisors, T.U.D., School Board and bond measures. Click here to view the myMotherLode.com Election Page. Live coverage will be provided Tuesday evening on 1450 KVML, with updates on Star 92.7, 93.5 KKBN.