Red Flag Warning For Mother Lode And Forest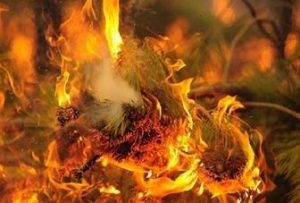 Generic Fire Photo

View Photos
The National Weather Service has issued Red Flag Warnings for the Mother Lode and the Stanislaus National Forest through Sunday morning.

A Red Flag Warning means that critical fire weather conditions are either occuring now or will shortly. A combination of strong winds, low relative humidity and warm temperatures will create explosive fire growth potential.

The Red Flag Warning for the Stanislaus National Forest is in effect through Sunday 11AM.

The Red Flag Warning for the Mother Lode from 1000 through 3000 feet, is also in effect through Sunday 11AM.

Anticipated lightning strikes with dry fuels and little precipitation is raising the concern for the significant fire danger.
Additionally, winds gusts from twenty-five to thirty-five mph are expected with downdrafts up to fifty mph in the vicinity of thunderstorms.
There is a lingering chance of thunderstorms along the crest of the Sierra Nevada on Sunday.