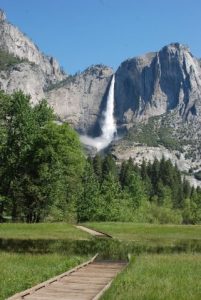 Yosemite Waterfall

View Photos
Yosemite, CA — A newly released National Park Service (NPS) report shows that the more than 4 million visitors to Yosemite in 2010 spent $354.7 million in the park and the surrounding communities. That spending supported more than 4,600 jobs in the area.
The figures are based on a national study of the $12 billion direct spending by 281 million visitors in 394 national parks and nearby communities and are included in an annual, peer-reviewed, visitor spending analysis conducted by Dr. Daniel Stynes of Michigan State University for the National Park Service.
Yosemite Park Ranger Scott Gediman says, "Yosemite National Park is a huge economic component of the area."
The report found that most of the spending and jobs are related to lodging, food, and beverage service (52%) followed by other retail (29%), entertainment/amusements (10%), gas and local transportation (7%) and groceries (2%).
Across the U.S., local visitor spending added a total of $31 billion to the national economy and supported more than 258,000 jobs, and increase of $689 million and 11,5000 jobs over 2009.
To download the report, visit http://www.nature.nps.gov/socialscience/products.cfm#MGM and click on Economic Benefits to Local Communities from National Park Visitation and Payroll, 2010.
The report includes information for visitor spending at individual parks and by state.