Voters May Decide On Issues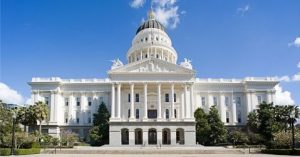 California State Capitol

View Photos
Sacramento, CA — The Secretary of State's Office gave the go ahead to numerous groups this week to begin collecting signatures for proposed ballot initiatives.
One group is trying to repeal a recent state law requiring that California schools teach the accomplishments of gay, lesbian and transgendered individuals. The same group is sponsoring a second ballot proposal that would permit parents to excuse students from "Social Science and Family Life" curriculum. The paperwork for the initiative was submitted by Richard Rios.
A proposed ballot measure would make it easier for the legislature to pass laws imposing fees and penalties on activities that damage natural resources and pollute the air and water. It would allow lawmakers to pass these types of laws with a simple majority vote, rather than a 2/3 majority. The paperwork was submitted by Joseph Caves.
Caves is also sponsoring a second ballot measure that would require multi-state businesses to calculate their California income tax liability based on the percentage of their sales in California. It would repeal an existing law that gives multistate businesses an option to choose a tax liability formula that provides favorable tax treatment for companies with payroll and operations outside California. The proposed measure would also require that much of the new revenue be set aside for energy efficiency and alternative energy projects.
Proponents of the various ballot proposals have 150 days to collect the needed 504,000 signatures.