Yosemite Seeing Huge Crowds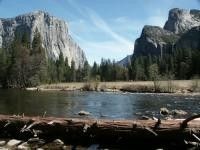 Yosemite National Park

View Photos
Yosemite, CA — Attendance in Yosemite National Park last year was the best it's been in well over a decade.
Park Ranger Kari Cobb says 4,098,000 people visited the park in 2011, compared to 4,047,000 the year prior. Yosemite continues its upward visitation trend. 2010 had been the first time the park registered over 4 million visitors since 1996.
Cobb says the dry, warm winter seems to have boosted the numbers. 133,000 visitors came to Yosemite last month, 30,000 more than in December of 2010.
Historically, 1996 was a record breaking year when the park saw around 4.2 million.
"Who knows, we make break our record in 2012," says Cobb. "The weather continues to be good, and we're entering the year with very good visitation stats."