Newsom And Trump Clash Over Border Wall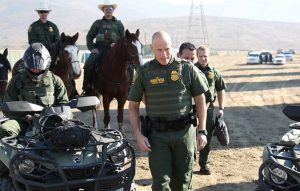 US Border Enforcement

View Photos
Sacramento, CA — California Governor Gavin Newsom is heading a multi-state coalition that filed a lawsuit against President Donald Trump's National Emergency Declaration regarding the southern border.
A coalition of 16 states signed onto the lawsuit filed in the Northern District of California. In addition to trying to stop the emergency declaration, the litigation is specifically attempting to stop the construction of the wall, and the diversion of any Congressionally appropriated funds.
Newsom states, "This 'emergency' is a national disgrace. Rather than focusing on fighting the real vulnerabilities facing Americans, the President is using the powers of America's highest office to fan the flames of nativism and xenophobia. Our message to the White House is clear: California will not be part of this political theater. We will see you in court."
President Donald Trump responded on Twitter this morning, stating, "As I predicted, 16 states, led mostly by Open Border Democrats and the Radical Left, have filed a lawsuit in, of course, the 9th Circuit! California, the state that has wasted billions of dollars on their out of control Fast Train, with no hope of completion, seems in charge!"
The President argues that the current situation on the southern border presents a humanitarian crisis and threatens core national security interests.
During his State of the State address last week, Governor Newsom called for ending further funding of the high speed rail, and it will now simply run from Merced to Bakersfield.