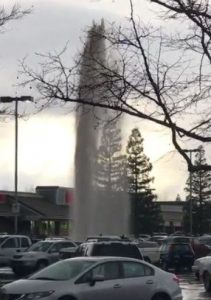 Vehicle hits fire hydrant in the Junction Shopping Center
East Sonora, CA — Shoppers in at the Junction Shopping Center in East Sonora got a surprise when suddenly water was shooting about 15 feet into the air near the Price Co Food store.
Sonora Fire Department crews responded to the scene and found that the hydrant had been hit by a vehicle. The driver backed into the equipment causing the fountain like stream of water in the middle of the parking lot. Crews were able to shut the water off in under 10 minutes. There is no word on damages resulting from the wreck. No injuries were reported. There is a video in the image box showing the mishap.