Sheriff's Deputy Offers Helping Hand During Storm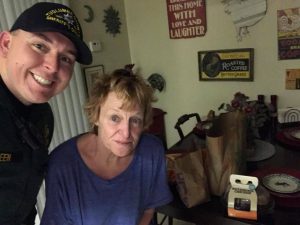 Deputy Jeremy Green and Christine

View Photos
Sonora, CA — The Tuolumne County Sheriff's Office is sharing a story about a deputy stepping up to help a local resident in need over the weekend.
A woman, identified as Christine, is new to the area and had not eaten in several days because she was stuck at home and couldn't drive to the store because of a recently broken ankle. Christine tried to call for cab service but couldn't get through, so she called the sheriff's office for help. Deputy Jeremy Green responded, and also tried to call for a cab, but learned there was a long backup of calls due to the weather.
The deputy decided to take matters into his own hands and went to the store to pick up a few items to help Christine get through the next few days. Knowing that she had not eaten in some time, he also surprised her with a burger and fries.
The Sheriff's Office states, "It was a pleasure welcoming our new neighbor and helping her during this tough time. We wish you a speedy recovery Christine!"