Motorists Urged To Avoid Flowing, Flooding Waters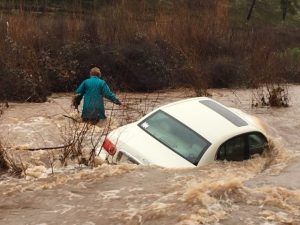 Resident rescued in Calaveras County during Monday Feb 4 2019 storm flooding

View Photos
San Andreas, CA — Along with frozen slush and black ice, flowing water across local roadways present a clear and present danger.
The Calaveras County Sheriff's Office is still emphasizing to motorists that they should slow down and use caution driving. The latter warning specifically includes avoiding any driving across areas that are flooded and/or have large amounts of standing or flowing water on the roadway.
Officials shared a dramatic photo of a resident in distress who was assisted out of a flooded area Monday (see image box), when there were at least three calls for service in Calaveras County where first responders had to rescue vehicle occupants stuck in flood waters after drivers tried to cross flooded areas.
According to OES Director Michelle Patterson, folks often underestimate the force and power of water. She adds that six inches of fast-moving flood water can knock over an adult; 12 inches of rushing water can carry away a small car and about two feet of rushing water will carry away most vehicles.
So for your safety and the safety of first responders, she urges drivers to please "turn around and don't drown."