Squatters, Dogs Found At Sonora Building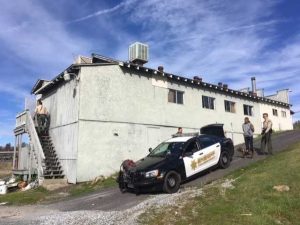 Building where squatters were found inside on Mono Way

View Photos
Sonora, CA – A Sonora property owner got a surprise when he check on his building and found three men, one woman and two canines squatting in the structure.
The incident happened on Wednesday morning at a building located on the 13000 block of Mono Way in Sonora. Once he discovered the squatters, the owner called 911 and that brought Tuolumne County Sheriff's Deputies to the scene. They quickly surrounded the building and ordered the individuals to come out, according to spokesperson Sgt. Andrea Benson.
Three men and a woman slowly emerged. They are identified as 47-year-old Jerome Zylstra, 32-year-old Brian Shrader, 41-year-old Jeremy Tosto and 39-year-old Jessica Gogas. A search of the group turned up methamphetamine on Zylstra and drug paraphernalia on Gogas and Tosto. A records check revealed an outstanding arrest warrant for Zylstra and that Shrader had been released from custody on his own recognizance. The four were arrested without incident for burglary and other drug charges.
After inspecting the building, the owner estimated that the squatters caused several hundred dollars' worth of damage. As for the two dogs, one which is picture in the image box being turned over to a Tuolumne County Animal Control Officer, both are now in that departments care.