Mother Lode MLK Celebration Highlights Economic Injustice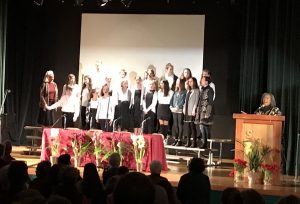 Michelle Allison speaks with the Sierra Waldorf Choir in the background

View Photos
Sonora, CA — There was a packed house Sunday afternoon at Sonora High School for the annual Mother Lode Martin Luther King Jr. celebration.
It featured a mix of music, a youth essay and a panel discussion. This year's theme was addressing poverty at the local level.
Panelists included former Calaveras Supervisor Steve Wilensky, Washoe Community Tribal Council Chairman Irvin Jim, former Tuolumne County Superintendent of Schools Margie Bulkin and Jamestown Family Resource Center Director Mark Dyken.
Wilensky and Jim spoke heavily about the Calaveras Healthy Impact Product Solutions project. The non-profit effort has been working to create jobs in an impoverished area and improve the health of the forestland. Bulkin spoke about the Columbia College Promise Initiative that is offering free tuition to local first year college students and eliminating a hurdle for many to get out of poverty. Dyken spoke about a new local effort to address "trauma," which has been proven to be a significant factor that leads to poverty. All four incorporated the messages of Dr. King in their speeches.
Also this year, Jeanette Lambert was given the first annual Laurie Aretsky Bailie Social Justice Award in recognition for helping community members who are battling mental illness or addiction. She is the founder of the David Lambert Community Drop-In Center. The invocation was given by Nate Levering of Sierra Bible Church. Music was provided by the Sierra Waldorf Choir, Dennis Brown and Michelle Allison.
This year was the 23rd anniversary of the event. It was put on by local volunteers and free of charge to attend.