A Glimpse Into Angels Camp's Utica Mansion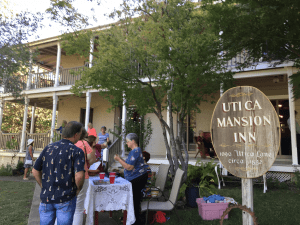 Utica Mansion waiting in line to tour the home

View Photos
Angels Camp, CA — Since it is privately owned, one of Calaveras County's most significant Gold Rush era landmarks, the circa 1880's Utica Mansion in Angels Camp, is rarely open to the public but during a recent fundraiser its owner threw open its doors to a lucky few.
Clarke Broadcasting was there to attend the rare event, hosted by the mansion's owner Tad Folendorf as a fundraiser for Angels Camp Museum. Folendorf has lived there since he and former wife Cheryl purchased the then-decaying building in the 1980s.
Located across the street behind Angels Camp's present-day Utica Park in the downtown area, the building, originally a Federal-style stone home, was erected adjacent to the Utica Mine by the mine's original owner Robert Leeper back in 1882 and also used as an office. It was purchased two years later along with the mine by Charles Lane, the most prominent miner in local history.
Lane expanded the property into a grand residence with lavish furnishings, décor and all the latest conveniences of the time. The mine, itself, which remained in production for decades after Lane departed to strike it even richer in Alaska, yielded what would be considered in current value as nearly a billion dollars in gold.
Folendorfs Share Their Perspective As Stewards
Besides extensively renovating and getting the mansion listed on the National Register, the Folendorfs operated a bed and breakfast inn for a time and raised their now-grown family there. Tad, who grew up locally, is a former Angels Camp mayor and city council member. Daughter Amanda, the current mayor, is at the age of 31, its youngest. Daughter Alissa teaches home economics at the city's Bret Harte High. Tad gives a brief overview of the mansion in this brief video from the former ballroom-turned-family-room.
While it contains many locally significant historic artifacts and furnishings, the mansion interior is perhaps best known for its intricate, artisan wallpapers extensively installed nearly everywhere, including the ceilings. Elaborate Victorian era designs that were original in the home, the multicolor and gilt papers, originally created by English interior designer William Morris, were painstakingly reproduced in a similar traditional silkscreen manner by Bradbury and Bradbury out of Benicia, California, and reinstalled. To hear more about the mansion's wallpapers from Alissa Folendorf, click here.
While they clearly appreciate the unique experience of growing up in Utica Mansion, both daughters recall that, as teens, they hated all the "old things" and particularly resented not being allowed to hang posters in their bedrooms due to all the valuable wallpapers, some of which are in the Smithsonian's wallpaper collection.
To view some photos of the Utica Mansion interiors and grounds taken at the Sept. 8 event in support of the museum, click into the image box slideshow.