Quick Thinking Bus Driver Averts Potential Amtrak Disaster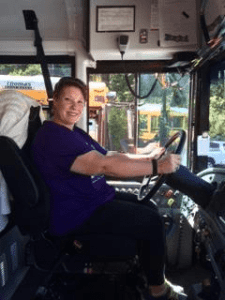 Sonora Union High School District Bus Driver Janette Elsey

View Photos
Sonora, CA — A recent away game bus trip turned out to be a hair-raising one for a Mother Lode team who is fortunate to have had a well-trained, quick-thinking driver behind the wheel.
According to Sonora Union High School District Transportation Director Chet White, sudden circumstances at an Amtrak crossing stop last Friday showed the mettle of bus driver Janette Elsey as she was taking the JV Wildcat football team to play Hilmar.
In an interview with Clarke Broadcasting, Elsey recounts the route, "We were headed down Geer Road through Modesto…and we arrived at the four-way intersection at Santa Fe…I turned, crossed the intersection and there's a rail line that is just after that, so we have to do our railroad protocol."
Just Following The Protocol
Specific steps require the driver after making a full stop between 15 and 50 feet of the crossing, to activate the hazard lights, open the bus door, and use an onboard noise cancellation device while listening and looking for any oncoming trains before closing the doors, turning off the hazard lights and proceeding.
After doing all that, Elsey recalls, "I…closed my door and had just started to apply the accelerator to take off [moving forward], when in unison, the [railroad] lights…alarm [went off] and the crossing arm started to come down on the right side of my bus. So I quickly threw it in reverse…and just tried to get out of that intersection as quick as possible!" The maneuver broke off the railroad crossing arm, bringing it on back with the vehicle, which she said probably generated a bigger reaction from the boys onboard.
Although Elsey says she did not immediately see the oncoming train or hear any horns notifying her that it was coming into the intersection, just as soon as the bus was safely backed up, she and her passengers all watched it thunder past, adding that she was grateful that her protocol and driver training naturally kicked in. "We spend a lot of time in training…it's what keeps us on our toes," she notes.
Trusting Well Trained Instincts
According to White, "She did 100 percent the right thing by backing up…away from danger anything that could have caused harm to the bus." Asked about what school district drivers must do to get hired, he replies that they must complete 20-plus hours of classroom training and many more behind the wheel as well as pass multiple tests through the DMV and CHP. There is also a special DMV physical for commercial drivers, who must periodically recertify.
He readily confirms Elsey's comment that the district does a lot of ongoing training, including troubleshooting under nighttime, adverse weather and many other conditions. For this, a substitute or driver with one to two years of experience makes somewhere between $18 and $22 per hour, he says. He adds that Elsey has been on staff about four years.
After the train raced through the crossing, Elsey shares that she pulled into a safe spot and reported the incident as per protocol. The CHP cleared the bus to proceed on its way after about an hour and so the team was able to play its scheduled game. While it did not score an on field win that night, relatively speaking, the overall outcome was optimal. Reflecting, White confides, "You always hear stories. It's usually family cars or large trucks that get bottomed out on railroad tracks — or people who drive around crossing arms — things like that. Typically [it's] not school buses…but there have been some instances."