Sheriff's Office IDs Man Who Died At New Melones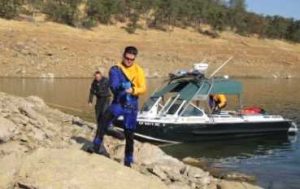 Team Recovers Body At New Melones

View Photos
Sonora, CA — Tuolumne County sheriff's officials confirm that a body recovered yesterday by the shore near the New Melones reservoir dam is the man whose disappearance at the lake just over two weeks ago triggered an extensive four-day search.
Sgt. Andrea Benson reports that today the Coroner's Office positively identified the remains as those of 58-year-old Richard Matlock of Ceres. As we reported here, a fisherman spotted a body yesterday about three feet from the shore near the dam area.
Matlock went missing on Aug. 18 while recreating with family, who said he jumped from a 2007 Glastron boat not wearing a life vest intending to enjoy a swim and never resurfaced.
Search and recovery efforts over the following days — some at extreme depths of up to 400 feet — included rescue divers, sonar scanning systems and remotely operated underwater vehicles, which exhausted local resources as well as those from the Merced and Tulare County sheriff's offices. As reported here, when responder teams were unable to locate Matlock, the Tuolumne County Sheriff's Office called off the focused search and assigned boating enforcement units to continue monitoring the area.
Sgt. Benson adds that an autopsy is scheduled for tomorrow.