Search Suspended For Man Missing At New Melones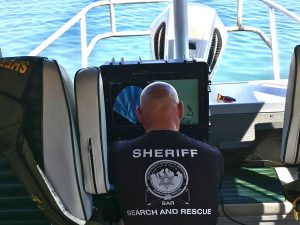 Search at New Melones For Drowning Victim

View Photos
Sonora, CA — After a four-day search using rescue divers, sonar scanning systems and remotely operated underwater vehicles, officials reluctantly called off search efforts for a man presumed drowned at New Melones reservoir.
Tuolumne County sheriff's officials announced that its boating enforcement division and dive team suspended its search for a 58-year-old Ceres man now identified as Richard Matlock. As reported here, Matlock disappeared Saturday afternoon after jumping from a 2007 Glastron boat to swim in the lake without a life vest and never resurfaced.
Search efforts tapped assistance from Merced and Tulare County sheriff's offices. Officials state that although the search teams exhausted all available resources, they were unable to locate Matlock, also noting that the reservoir's extreme depths, some at 400 feet, makes rescue and recovery efforts highly strategic and very dangerous.
While the active search has been suspended, sheriff's officials emphasize that boating enforcement units are continuing to monitor the search area, mindful of continuing water and environmental changes. They also send out their deepest condolences to the family for their tragic loss and thank the Merced and Tulare responders for their quick response and assistance.