Update: Search For Drowning Victim Continues At New Melones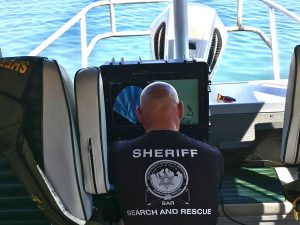 Search at New Melones For Drowning Victim

View Photos
Update at 4:40pm: As recovery teams continue to search for a man who reportedly drowned over the weekend while on New Melones, Tuolumne County sheriff's officials are releasing a few more surrounding details.
According to sheriff's spokesperson St. Andrea Benson, the 58-year-old apparent victim was the father-in-law of the person who reported the incident. She adds that they were recreating on a 2007 Glastron boat and that the still missing man reportedly jumped into the reservoir for a swim without a life vest — and never resurfaced.
Update at 11:25am: The Tuolumne County Sheriff's Office reports that the reported drowning victim is a 58-year-old man from Ceres. His identity has not been released.
Update at 11am: The Tulare County Sheriff's Office has also sent resources today to help in the search for the man who reportedly drowned at New Melones on Saturday. Sonar equipment and a remotely operated underwater vehicle are being utilized. The name of the assumed drowning victim has not yet been released.
Original story posted at 6:14apm: Tuolumne County, CA — A search continues at New Melones Reservoir for a man who is believed to have drowned while recreating on Saturday afternoon.
Officials have not released the man's name at this point, or the details that led up to the drowning. We reported earlier that the Merced County Sheriff's Office is assisting the Tuolumne County Sheriff's office as it has additional sonar and camera equipment. If you are going to be recreating on the lake, the sheriff's office asks that you avoid the area southeast of the dam. We'll pass along more information as it becomes available.