Adventist Health Sonora's New Pavilion, Cancer Center Gets License To Open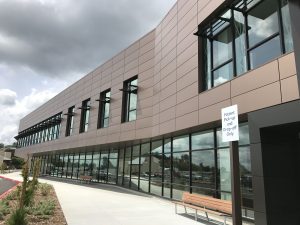 Adventist Health Sonora's Health Pavilion and Diana J. White Cancer Institute

View Photos
Sonora, CA — State public health officials completed a site visit and granted the licensing necessary for Adventist Health Sonora's 64,000 square foot Health Pavilion and Diana J. White Cancer Center to officially receive patients.
Hospital spokesperson Karen O'Brien shares that during their initial visit yesterday, representatives from the California Department of Public Health (CDPH) reviewed the processes and procedures in place for each of the medical services that will be moving into the new building, decided the facilities are ready to operate and staff are prepared to accept patients at the new locations within the space. The CDPH application was submitted several months ago, she notes, adding that next steps will be to prepare the transition team that will be physically moving all of the services.
Tyler Newton, operations executive happily recounts, "The survey team was impressed with the quality of the building, equipment and expertise of the staff they interacted with; our care teams are excited to move into the building — and use this innovative space to provide an excellent experience for our community."
O'Brien explains the relocation of services will be done in phases with each moving in one by one so that some will be shortly settling in and that the process should be complete in about a month or so.
Too, she says, "We are also implementing a communication plan so that our patients who might be expecting that their appointments will be moving to their new location will be hearing from their provider or their department that they are scheduled with and we will be sending out letters and making phone calls to make sure that they know where to go for their appointment, whether it is going to be at the current location or in the new Health Pavilion."
Officials have provided the following relocation details for the various departments moving into the new facility.
— Primary Care — Mountain Medical Family practice will be moving from their current location on Guzzi Lane
— Sports Medicine & Rehabilitation — will be moving from their current location in the main hospital; however, Bones Sports Medicine and Rehabilitation and Angels Camp Physical Therapy will not be affected by the move
— Diagnostic Imaging — services currently provided at the Outpatient Imaging Center on Covey Circle, including scheduled mammograms, ultrasound, DEXA, CT and MRI as well as walk-in X-Ray, will be moving into the Health Pavilion; certain outpatient services currently provided at the main hospital, including PET/CT, will also be relocating there
— Diana J. White Cancer Institute — medical oncology, hematology, infusion and radiation oncology services currently provided at the Adventist Health Sonora Cancer Center at 900 Greenley Road will move into the Health Pavilion