Transient Arrested For Burglary, Trespassing At Two Homes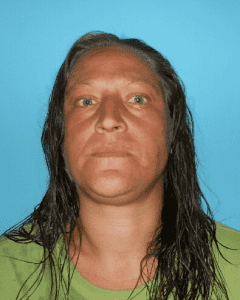 Pricilla Wood TCSO Booking Photo

View Photos
Sonora, CA — Although Sonora's police chief will not describe recent Sonora home break ins as a trend, he suggests that following an early morning incident that roused a resident more folks could take increased precautions.
Chief Turu VanderWiel recounts that a call came in early Monday from the 100 block of Highway 49 near Pesce Way for the report of a burglary with officers determining that 35-year-old transient Pricilla Wood was responsible for breaking into the home and stealing a set of keys while the resident was sleeping.
"When the homeowner awoke to the intruder, she took off running," the chief continues, adding that a short time later police were able to find and question her as well as speak with another party in the 100 block of Steffen Way. The resident reported that the same suspect had also trespassed there and damaged some porch furniture by pouring motor oil on it. Wood was subsequently arrested for felony trespassing, vandalism and burglary in the first degree and assigned a $50,000 bond.
"We are definitely seeing a rise of people on properties without authorization," the chief acknowledges, still emphasizing that residents who leave their doors unlocked or who have insufficient outdoor lighting are not warding away prospective criminals.
Besides these two simple tips, he advises folks to keep the blinds closed on windows with close street view proximity, also ensuring that belongings remain out of public view. "Watch dogs and alarm systems are helpful as well as making your home unattractive for those who want to lurk in the shadows," he adds.