Tree Removal And Law And Justice Center Items On TUD's Agenda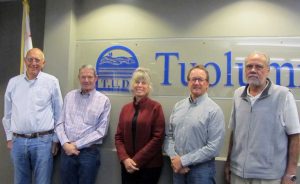 TUD Board - Jim Grinnell, Bob Rucker, Barbara Balen, Ron Kopf and Ron Ringen

View Photos
Sonora, CA — The Tuolumne Utilities District will vote on a contract to remove hazard trees along the Columbia Ditch.
The project calls for removing 170 dead and dying trees in the vicinity of the water ditch. The company Left Coast Land Clearing submitted the lowest bid of $112,000. Over the past two years TUD has removed over 3,500 hazard trees, with over 75-percent of the funding coming from the state.
Also, the board will vote on a $349,000 contract with Gregory Equipment, Inc. related to the Tuolumne County Law and Justice Center Lift Station Screening Improvements Project. Per an agreement approved in 2016, the county agrees to fund the design and construction of screening improvements for Tuolumne County's Law and Justice Center Lift Station.
Today's meeting starts at 2pm in the district meeting room at 18885 Nugget Blvd in Sonora.