Twain Harte Lake Test Results Expected Thursday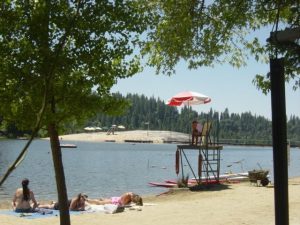 Twain Harte Lake

View Photos
Twain Harte, CA — Late this week the Twain Harte Community Services District is planning to learn the results of yesterday's water tests conducted at Twain Harte Lake.
Initially the district hoped to have the results back within 24-48 hours, but General Manager Tom Trott indicates the lab had some processing delays due to the holiday business closure. At this point, it appears the results should be back by Thursday afternoon.
Twain Harte Lake was closed yesterday morning after 30 gallons of wastewater from a nearby home went into a drain near the lake. We reported earlier that it was caused by a private sewer lateral backing up and overflowing. The lake will remain closed, as a precautionary measure, until test results show the water is safe for human contact.