Fire Damages Tuolumne County Home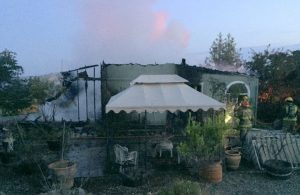 Don Pedro house fire

View Photos
Lake Don Pedro, CA – Firefighters knocked down a single story house fire in the Lake Don Pedro early this morning.
CAL Fire spokesperson Lindy Schoff reports that when firefighters arrived on the scene around 4 a.m. 50-percent of the home was engulfed in flames. The blaze broke out in the back of the house located in the 13580 block of Hoyito Circle near Canada Street, off Highway 132. Pictures in the image box show the flames destruction to the structure, but luckily they did not spread to any nearby vegetation.
Crews were able to extinguish the fire in the unoccupied home in about two hours, according to Schoff, who adds that an investigation into what sparked the blaze is ongoing. Crews remained on scene mopping up for nearly three hours.