Opinions Needed To Update CCWD Hazard Mitigation Draft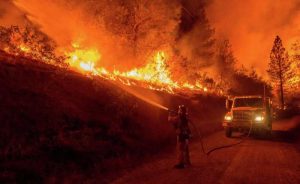 Butte Fire

View Photos
San Andreas, CA — The Calaveras County Water District (CCWD) is seeking the public's advice on its 2018 Local Hazard Mitigation Plan (LHMP) draft update.
This week, the district held a public hearing on the matter in San Andreas. Customers were able to give immediate feedback on the plan. Others can still voice their opinions by email. The purpose of the draft, according to the district, is to protect people and properties from the impacts of hazards by developing strategies to proactively reduce or eliminate long-term risk. They call the public input "a critical component to ensure a successful and comprehensive update."
Citizens have until May 11th to email questions or written comments directly to Peter Martin, Manager of Water Resources at: peterm@ccwd.org or calling him at (209) 754-3094. Letters can be sent to the CCWD office at: PO Box 846, San Andreas, CA 95249.