Smoke In Mi-Wuk Village Just A Drill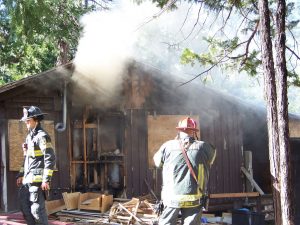 Live fire drill in Mi-Wuk Village

View Photos
Mi-Wuk Village, CA – Motorists along Highway 108 and residents can see smoke in the skies over Mi-Wuk Village today along with plenty of fire equipment in the area as a drill is underway.
The live fire exercise is taking place at the Word of Life facility where one structure is being torched and the other is being used for rescue training to give firefighters a real life scenario, according to Mi-Wuk Fire Chief Larry Crabtree. He details, "They [fire instructors] actually set fires inside 55 gallon drums that are inside the building. Once the fire gets rolling then they call in the engines. Firefighters don't know what scenario they are going to have. Sometimes they'll have rescues where they have dummies that they have to go search and rescue them. Other times, it will just be an opportunity to size up the flames and use hoses on the fire to put it out."
Today's event is a culmination of several hands on state certified fire training classes, which began in March. Chief Crabtree adds, "They [firefighters] will make mistakes and this is the place and time to make mistakes and learn from them so they don't make them on a real fire."
Resources involved in the drill include Cal Fire, Tuolumne County, Tuolumne City, Strawberry, Mi-Wuk and Twain Harte fire departments. The latter helped with coordinating the exercise with the state.