Judge Rules In Favor Of Stone Mill Center Development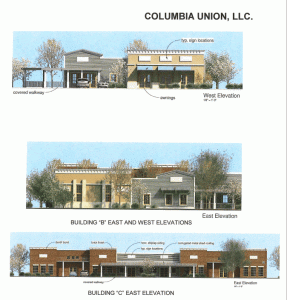 Stone Mill Center Project

View Photos
Sonora, CA — Friday was a win for developers of the proposed Stone Mill Center, a three-building, 16,000-foot mixed commercial use complex at the intersection of Parrotts Ferry and Union Hill roads in Columbia, slated to include a health care center and retail space.
The Honorable Frank Dougherty, a visiting judge from Modesto, was assigned to hear the lawsuit filed by the Citizens for Responsible Growth against Tuolumne County and the developers, Columbia Union LLC, on grounds that an EIR was necessary to sufficiently address arguments raised over traffic and aesthetics concerns. The suit was filed following the county's approval of the project early last year.
Judge Dougherty, whose court discussion reflected clear, thoughtful research through the case documents, spent significant court time Friday addressing prior public hearing comments against the project as well as hearing and illuminating case arguments from both sides before tendering his decision against the plaintiff, for which no associated persons were present.
Following the decision, landowner Gary Simning, associated with the Stone Mill Center development, voiced satisfaction with the ruling, noting that the project has taken a hit time-wise of about two years along with probably $75,000 or so in attorneys' fees.
Supervisor Randy Hanvelt responded to the news by saying, "This is a landmark decision for the people of Tuolumne County."
Following the judge's filing of the ruling within the next few weeks, the citizens' group will have a window in which to appeal the decision.