Calaveras Supes To Address Mixed, Fairly Mellow Agenda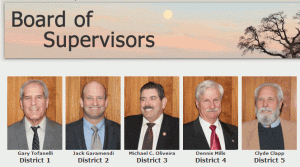 Calaveras County Board of Supervisors

View Photos
San Andreas, CA –- Stocked with over a dozen consent items and leading off with a proclamation locally declaring March Red Cross Month the Calaveras County supervisors' Tuesday agenda from the outset looks to be one of the tamest ones in months.
Three of the four regular agenda actions involve reports or presentations relating to the ongoing Butte Fire recovery efforts; the state of local winegrape production by UCCE Farm Advisor Lynn Wunderlich in recognition of Foothill Winegrape Day coming up on March 29; and beautification plans the government center campus. The other item deals with confirming recommendations to appoint or reappoint individuals to fill vacancies on the Commission on Aging, Fish & Game Commission, and Copperopolis Cemetery District board.
Among the consent items, the board anticipates renewing the county's professional services agreement with Paratransit Services for the management and operation of Calaveras Transit. The existing agreement was set to expire at the end of this month and Paratransit was the only entity that submitted a proposal despite county efforts to solicit additional bids.
The new contract provides essentially the same services. However, for improved efficiency, Paratransit will have increased responsibilities and accountability. Related changes include that maintenance and operations are transitioning from the Calaveras County Public Works Department to Paratransit, locating at the contractor's Pool Station Road facility. Paratransit will also be hiring in a maintenance manager. The county's maximum obligation for the first year under the new agreement is just under $883,000.
The board expects to authorize Director of Public Works Jeff Crovitz to sign off on the notice of completion pertaining to the nearly $197,000 Rock Creek Solid Waste Facility Gatehouse Replacement Project. It also plans to approve a $1-per-year five-year lease of the county-owned Huberty Building in downtown San Andreas by the Calaveras Chamber of Commerce. The chamber made improvements to the building to bring it within ADA compliance and continues to operate the Calaveras Business Resource Center (CBRC) there for the benefit of the community.
The meeting will begin at 9:30 in the government center's supervisors chambers (891 Mountain Ranch road) following an 8 o'clock closed session during which the board has scheduled its performance evaluation of Public Works Director Crovitz as well as a conference with legal counsel over existing Butte Fire-related litigation against PG&E and another anticipated unnamed suit.