Urgent Text Scam Alert Issued To Mother Lode Residents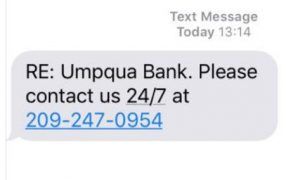 Bank text message scam

View Photos
Sonora, CA – The Tuolumne County Sheriff's Office is sounding the alarm regarding a text scheme that is using a local bank's phone number to scam victims.
Calls have been pouring into the dispatch today from residents informing sheriff's officials of a fraud involving a text message. As can be seen in the image box, the text appears to be from Umpqua Bank with a local phone number attached to call back. Sheriff's officials indicate a call to the number prompts an automated message notifying the person that the account has been suspended. It instructs the caller to enter their 16 digit access number, all in an attempt to steal personal information.
Sheriff's officials direct the caller to hang up and report the call. They advise that when in doubt contact the business directly to see if the request actually came from the business.  One key to remember is to never give out your personal information over the phone, computer or any other devise.