Brandished Firearm Sent Sonora Man To Jail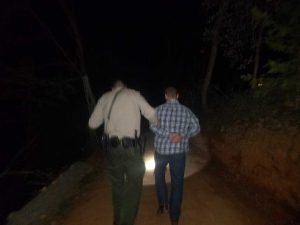 Rodney Orweller arrest

View Photos
Sonora, CA – Report of a disturbance evolved into a Sonora man revealing a gun and making deadly threats against a victim, while a kid was in the home.
Tuolumne County Sheriff's Deputies were called to a home in the 14000 block of Old Oak Ranch Road in Sonora around 10 p.m. on Sunday.  When the deputies pulled up to the house, the victim and a small child ran out of the home. During questioning, deputies learned that 30-year-old Rodney Orweller allegedly showed the victim a firearm and threatened to kill her if she tried to leave the house.
Orweller was arrested and booked into the Tuolumne County Jail for criminal threats and false imprisonment. Sheriff's officials indicate that his blood alcohol content was .13 when he was taken into custody. Orweller's bail is set at $25,000.