Apple Phishing Scam Hitting The Mother Lode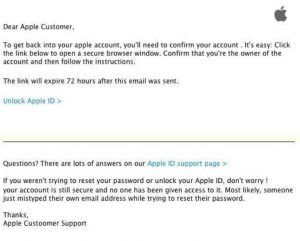 Apple scam email

View Photos
Sonora, CA – Tuolumne County Sheriff's officials have put out a scam alert for Apple users that has been ramping up in the Mother Lode recently.
The goals is to get your Apple ID and password, according to sheriff's officials, who add that the department has been flooded with calls from the public over the past couple days. The scammer, claiming to work for Apple Inc., contends that the person's iCloud account has been compromised. The caller asks the customer to get on a desk top computer and requests information to be sent to authenticate the issue, then the scammer hangs up. The caller ID from emails and voicemails has showed 225 and 913 area codes while requesting a call back immediately to resolve the issue. Sheriff's officials have provided examples of some phishing emails sent by the crooks claiming to work for Apple, which can be viewed in the image box.
Apple Inc. urges customers to hang up and contact them directly.  The company warns that fake emails, pop-up ads, text messages and phone message are all tools the con-artist use to get people to divulge personal information. Many times the swindlers strike while customers are browsing the web and state that a device has a virus, which can be fixed only by calling  a phone number that is given. This is most likely a scam, according to company officials, who add that if you need to change or update personal information, contact Apple directly.
To help customers identify phishing scams Apple Inc. provides these tips:
The sender's email address or phone number doesn't match the name of the company that it claims to be from.
Your email address or phone number is different from the one that you gave that company.
The message starts with a generic greeting, like "Dear customer." Most legitimate companies will include your name in their messages to you.
A link appears to be legitimate but takes you to a website whose URL doesn't match the address of the company's website.
The message looks significantly different from other messages that you've received from the company.
The message requests personal information, like a credit card number or account password.
The message is unsolicited and contains an attachment. Apple Inc. requests that you report any suspicious email by forwarding the message to Apple with complete header information. These email addresses are monitored by Apple, but you might not receive a reply to your report.
If you receive what you believe to be a phishing email that's designed to look like it's from Apple, please send it to reportphishing@apple.com.
To report spam or other suspicious emails that you receive in your iCloud.com, me.com, or mac.com Inbox, please send them to abuse@icloud.com.
To report spam or other suspicious messages that you receive through iMessage, tap Report Junk under the message.