More Potential Candidates Emerge For Local Races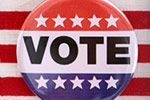 elections

View Photos
Sonora, CA — The list of candidates that have begun the process towards becoming a candidate for office in Tuolumne County has increased over the past week.
The deadline to submit a declaration of candidacy, and nomination papers, for the June primary election is Friday, March 9. However, if the incumbent declines to run, the deadline will be extended to March 14.
Following the announcement that District Three Tuolumne County Supervisor Evan Royce will not see re-election, there are now three people who have pulled papers in anticipation of becoming a candidate, Laurie Sylwester, Daniel Anaiah Kirk and Aaron Rasmussen.
Nothing has changed this week when it comes to potential candidates for the District Two seat, as they remain incumbent Randy Hanvelt, and potential challengers Paul James McNaul, Dave Titchenal and Ryan Campbell.
Two candidates have stopped into the elections office over recent days expressing their interest in running for one of the two open Sonora City Council seats. They are incumbent Jim Garaventa and newcomer Kurt Bryant. The other incumbent, George Segarini, is not running for re-election.