Plans In Process To Demo Historic Westside Office Building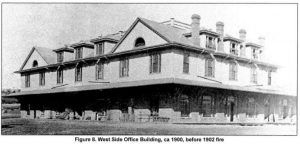 Tuolumne West Side Office Building before 1902 fire

View Photos
Sonora, CA — The days are looking to be numbered for a once prominent Mother Lode building that at one point was a possible National Register contender.
A permit application now in process to demolish is providing an opportunity to glimpse back on some local history while getting a primer in how local government works with owners of historic properties that may or may not be viable for continued use or restoration.
The building in question, formerly known as the Westside Commercial Lumber Company offices was, at the turn of the twentieth century, central to Tuolumne City commerce. Today, its broken, stucco-faced single-floor remains are literally a ghost of the impressive San Francisco-based Blass & Faville Architects designed circa 1899 structure, whose top stories were destroyed by fire just three years later, initiating what was to become a long slow pare-down of its commanding presence.
Its owners, the Tuolumne Band of Me-Wuk Indians' Tuolumne Economic Development Authority (TEDA) are currently working to secure a demo permit for the building, which sits on a four-plus-acre parcel. The tribe's cultural resources consulting firm, Sacramento-based ESA, in a memo sent to TEDA Project Manager Jim Briscoe last March, detailed historical property reviews over the years. The document is among TEDA's permit application materials submitted to the Tuolumne County Community Resources Agency (CRA).
Glory, Fading Days Recorded
Architecturally, historians have described the original structure as the largest, most substantial and most carefully designed commercial building ever constructed within the Tuolumne Townsite. Not only did it contain the Westside logging offices, it also housed establishments remembered today as Barney Whittaker's grocery, a meat market, Max Raff's clothing store, Bigelow's Drug store and the Tuolumne post office. With the gradual die-off of the timber trade in Tuolumne the town's fortunes dimmed; the demise reflected in the building's decades long decline into a decrepit state. (You can click into the image box slideshow for a current building photo and original images.)
From TEDA's permit application documents, Clarke Broadcasting gleaned that, despite a partial restoration attempt in 1976, the building continued to undergo significant deterioration although professional historians reviewing it in 1997-98 indicated it might have possibly been eligible for a National Register listing due to its prominent associations with the town's significant logging and railroad industries. Not recorded at the time however was the extent of the building's condition and integrity due to neglect and vandalism.
A subsequent 2007 architectural review by a structural engineer rated the building's physical condition as poor-to-fair, noting major collapses and other failures, although existing brick was recorded as being in fair-to-good condition. An August 2017 field survey and updated integrity recommendation reported that the majority of the building's exterior had sunk into considerable disrepair and collapse, so much so that the structure could no longer convey its significant historical associations.
Demo Process Under County Review
Shedding light on the tribe's process ahead that will allow for the historic building's demolition, CRA Assistant Director Quincy Yaley says the path depends on a few variables. As she explains, "For this situation here, the building has a historic overlay zoning on it. We use that in the county to preserve or enhance places or things that may be of importance in local, state or natural history — and at some point in the past — the building was reviewed at some level  and deemed to qualify for some sort of overlay."
Continuing, she emphasizes, "H [zoning], by definition does not mean it cannot be torn down, it just necessitates a different level of review…and we are working with the tribe to go through the steps…to review it to make sure that any permits issued are done correctly. Because it is in the H zoning district, it may require a use permit that goes through the CEQA. But if it is determined to be a public safety hazard — then a use permit is not required — but the work [still] has to comply with several other health and safety and building code requirements."
Yaley shares that the tribe has already gone through the process of documenting the building by providing information and photographs, as required by the county for all buildings over 50 years old. Non-historic structures can be documented by the owners; however those in an H district must be handled by a qualified archeologist working with state and federal standards.
Public Welcome To Weigh In
"We are just in early talks with the tribe to determine the correct path — and once we do then we will know if it needs a use permit or not — and if public meetings are needed they will be set based on what the ordinance code requires," Yaley offers helpfully. She adds, "I know that the community is interested in this project and unfortunately right now I do not have a pathway to give them in terms of 'there is a meeting set at this certain time to discuss it.' However, we are always interested in hearing from the public and so we are more than happy to receive emails, call or letters with people expressing their opinion." By the way she adds, the main number to call in order to do that is 209 533-5633.
According to Yaley, CRA might handle from zero to perhaps five demolition permits a month. Those over 50 years of age might range from a shed to something significantly more. Readily she acknowledges, "It is rare that we get a high-profile building like this for a demolition — and I think that is part of…what is catching the community by surprise."
Continuing on the topic, Yaley points out, "We do have historic buildings like this in a lot of our old communities, Jamestown, Tuolumne, Big Oak Flat…that are either being reused, adapted or otherwise changed to continue the use. There is no consistent outcome that we see when we are looking at old buildings — but the county has lots of programs — and our Building Division has ways that we work with property owners all the time on historic buildings." She concedes, "The process is not uncommon for us — but sometimes [the historic structures] are too far damaged."