Yosemite Planning Improvements Near Bridalveil Fall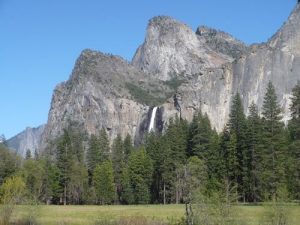 Yosemite - Bridalveil Fall

View Photos
Yosemite, CA — A public comment period is underway for an environmental assessment of infrastructure improvements planned near the popular Bridalveil Fall in Yosemite.
Ranger Scott Gediman reports that the preferred alternative includes replacing the vault toilets with flush toilets in the Bridalveil Fall Parking area, constructing a new accessible loop trail from the Bridalveil Fall Parking area to a viewing platform, making safety improvements in the parking area to reduce congestion, expanding the viewing platform for Bridalveil Fall, etc.
Gediman notes, "Bridalveil Fall is one of the most popular places to stop, it is a beautiful waterfall, and a chance for folks to literally get up close and personal with the waterfall. However, the area around the waterfall is dated and old, and frankly, in need of a spruce up."
The park is also receiving help from the Yosemite Conservancy to make the improvements.
The park is tentatively hoping to begin the project this coming fall. To learn more about the comment process, click here.